Westcountry wench!
VIP Shopper
hi gang!
here's what arrived today, no.1 package of a series of 3.
rose de france amethyst ring £15
- beautiful and sparkly. it's clear as a bell as you can see. however on reflection, not for me as am put off by seeing the metal setting thru the stone. while I'd love to keep the gemstone, it would be a waste of good metal and I can get a loose rose de france from ebay, so the ring's going home.
white topaz flowercut pendant £9
- again sparkly and clear and I was going to keep it for the stone alone. looking at it more closely I've decided I'm not keen on this particular cut so it's going home as well.
peridot & russet pearl pendant £11
- a real bargain. love love love this one, but having seen it for size and how it sits on me, sadly the pendant is not for me.
smokey quartz pendant £6
- glorious colour stones, wonderful setting. stones look purple from certain angles which is intriguing but not surprising. design reminds me of an astronomy model. I can't figure out how to change the chain just yet for a longer one so I can wear it, but for £6 am not letting it go now that the clear quartz is going home! am almost minded to hang it over my bed like a planetary dreamcatcher!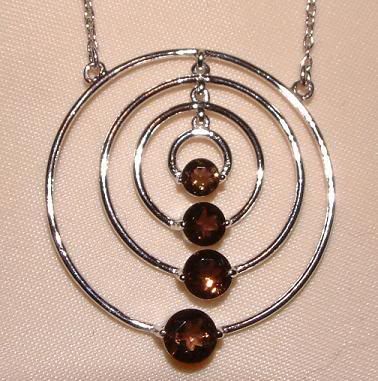 NB: if anyone would like to buy any items from me which I'm not keeping, please let me know before Saturday.
Last edited: